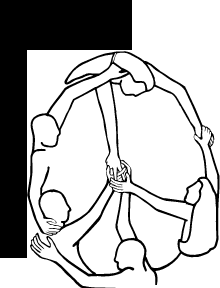 Peace and Justice Works
Site Navigation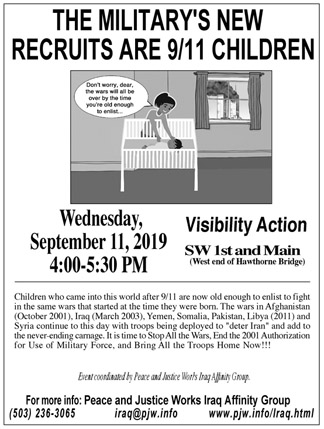 CALENDAR LISTING
Peace and Justice Works
Iraq Affinity Group
PO Box 42456
Portland, OR 97242
(503) 236-3065 (Office)
iraq @ pjw.info
http://www.pjw.info/Iraq.html
For immediate release June 18, 2019
"The Military's New Recruits Are 9/11 Children"
Visibility action
*Wednesday, September 11, 2019*
4:00 to 5:30 PM
SW First and Main (west end of the Hawthorne Bridge)

Children who came into this world after 9/11 are now old enough to enlist to fight in the same wars that started at the time they were born. The wars in Afghanistan (October 2001), Iraq (March 2003), Yemen, Somalia, Pakistan, Libya (2011) and Syria (2014) continue to this day with troops being deployed to "deter Iran" and add to the never-ending carnage. Peace and Justice Works' Iraq Affinity Group is holding a visibility action on Wednesday, September 11 from 4:00-5:30 PM at SW First and Main (the west end of the Hawthorne Bridge) to call attention to this mind-bending fact and to educate the public about the harms the wars do to people, the planet, and to the budgets for domestic spending for human needs.
It is time to Stop All the Wars, End the 2001 Authorization for Use of Military Force, and Bring All the Troops Home Now!!! .
For more information or to get involved contact the Peace and Justice Works Iraq Affinity Group at 503-236-3065 (voice or text), email iraq@pjw.info , or visit the website at http://www.pjw.info. A flyer is available at http://www.pjw.info/911_18yl_flyer.pdf