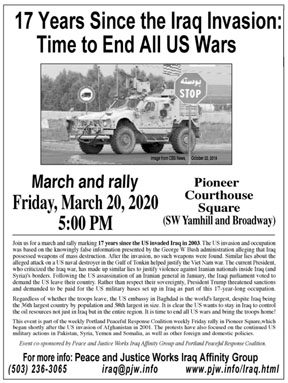 NEWS ITEM/CALENDAR LISTING

For immediate release March 20, 2020
"17 Years Since the Iraq Invasion:
Time to End All US Wars"
Rally and march marking 17 years since the US Invasion
*Friday, March 20, 2020
5:00 PM
Pioneer Courthouse Square- SW Yamhill and Broadway

This Friday, March 20, local peace groups are organizing a march and rally marking 17 years since the US invaded Iraq in 2003. The event will take place at the weekly Portland Peaceful Response Coalition Friday Rally at 5:00 PM, at Pioneer Courthouse Square (SW Yamhill and Broadway).
Portland Peaceful Response Coalition has held the Friday every week since November, 2001, making this the 960th week in a row. The rallies have been held rain or shine, snow or sleet, national emergency or not. Attendees will be asked to try to remain 3-6 feet apart per social distancing recommendations. Several regular attendees who are in at-risk groups are choosing to stay home, which serves as good advice for others considering attending.
The wars are going on regardless of the global pandemic. In fact, the US bombed sites inside Iraq without the government's permission on March 12 in what the White House called retaliation for rocket attacks on American troops in Iraq. The two incidents call into question why the US is in Iraq at all, and deepen the organizers' reasons for holding the event.
"While we are living in fear of going outside and catching or spreading this coronavirus, it is important to think about what it might be like to live in Iraq and not be able to go outside your home because there might be American soldiers clashing with militias, who were emboldened by the US invasion and occupation," said Dan Handelman of Peace and Justice Works Iraq Affinity Group. "Or for that matter people in Afghanistan, Yemen or Somalia, where US drones might drop bombs on you during your wedding. It seems like a similarly random way to die, except that the coronavirus is a natural phenomenon and war is man made." PJW points to a March 17 article by Kathy Kelly of Voices for Creative Nonviolence pointing out the ravages of America's warfare and how it has impacted global pandemics from 1918 until today.
http://vcnv.org/2020/03/18/stop-tightening-the-thumb-screws-a-humanitarian-message/
The US invasion and occupation was based on the knowingly false information presented by the George W Bush administration alleging that Iraq possessed weapons of mass destruction. After the invasion, no such weapons were found. Similar lies about the alleged attack on a US naval destroyer in the Gulf of Tonkin helped justify the Viet Nam war. The current President, who criticized the Iraq war, has made up similar lies to justify violence against Iranian nationals inside Iraq (and Syria)'s borders. Following the US assassination of an Iranian general in January, the Iraqi parliament voted to demand the US leave their country. Rather than respect their sovereignty, President Trump threatened sanctions and demanded to be paid for the US military bases set up in Iraq as part of this 17-year-long occupation.
Regardless of whether the troops leave, the US embassy in Baghdad is the world's largest, despite Iraq being the 36th largest country by population and 58th largest in size. It is clear the US wants to stay in Iraq to control the oil resources not just in Iraq but in the entire region. It is time to end all US wars and bring the troops home!
In a bipartisan vote, the House of Representatives voted 236-166 on January 30 to repeal the 2002 Authorization for Use of Military Force in Iraq, which was controversially created based on the WMD lies, and has been used to justify continued US presence. Eleven Republicans voted for the measure.
The PPRC weekly Friday rally began shortly after the US invasion of Afghanistan in 2001. The protests have also focused on the many ongoing wars as well as other foreign and domestic policies.
The event is cosponsored by Peace and Justice Works Iraq Affinity Group, Portland Peaceful Response Coalition, CODEPINK, War Resisters League Portland, and Veterans For Peace Chapter 72.
A flyer for the event is available at http://www.pjw.info/iraq_17yl_flyer.pdf .
For more information or to get involved contact the Peace and Justice Works Iraq Affinity Group at 503-236-3065 (voice or text), or email iraq@pjw.info .