by specific community groups. We propose that community groups be permanently involved in the appointments to the new board, and that the number of groups involved stay constant. However, the selection of which groups have input will change from year to year. The selection of groups will also coincide with the specific diverse elements of the community, e.g. gay and lesbian groups would help appoint a gay or lesbian Board member.

Board members will serve one year terms. They may be reappointed to only one additional term.

c. Board Responsibilities

The Board will conduct public hearings on specific complaints as recommended by inves- tigators. The Board will notify complainants when their hearing is scheduled. Hearings will result in sustaining some or all of a complainant's claims or finding them to be unsubstantiated. The Board will make recommendations for improved policies and training routinely when deciding the outcome of cases and as a result of regular public hearings held to discuss policies and training.

PIIAC is currently empowered to conduct spot audits of the Internal Investigations Division, checking for thoroughness, fairness and accuracy. These audits will become the business of the City Auditor once the Board has its own independent investigators.

The Board will create quarterly reports, indicating the number of complaints, hearings and investigations. The reports will also include statistical information about the nature of complaints as well as the outcomes of Board recommendations. The Board will also oversee the hiring and actions of investigators, as well as the processes of intake and mediation.

d. Board Powers: Subpoena

The Review Board will have the power, by majority vote, to compel testimony and presentation of evidence. For a police officer, giving such testimony will be part of his or her regular duties. The officer's superior will order him or her to appear before the review board.

"Without [subpoena power], the Board will not have the necessary underpinnings to establish credibility and have meaningful input."18 In other words, the investigation is not complete without all the evidence, and without full cooperation of the police, justice cannot be served.

PIIAC fought for and gained the court's approval to subpoena witnesses in a drawn out battle that ended in 1988.19 However, the City Council altered the PIIAC ordinance in 1989 and subpoena power is currently vested in the City Council and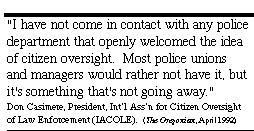 not the Citizen Advisors.
e. Board Powers: Training and Policy Issues
The Board will hold regular public hearings regarding police policies and training. Such forums allow public input on important policy issues and clearly fit the mold of Community Policing. Public involvement in policy matters can help cut down on the number of complaints by improving poor or misunderstood policies. The Board will review Police Bureau General Orders and use patterns of misconduct to determine necessary changes. The Board's function, however, will be purely advisory, its power being in publishing its recommendations.