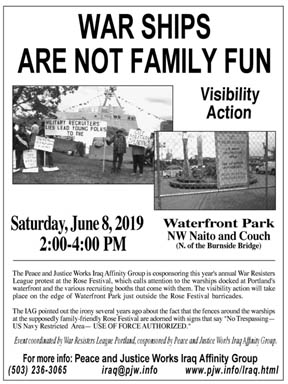 CALENDAR LISTING
Peace and Justice Works
Iraq Affinity Group
PO Box 42456
Portland, OR 97242
(503) 236-3065 (Office)
iraq @ pjw.info
http://www.pjw.info/Iraq.html
For immediate release May 22, 2019
"War Ships Are Not Family Fun"
Visibility action at the Rose Festival
*Saturday, June 8, 2019*
2:00 to 4:00 PM
Waterfront Park, NW Naito at Couch (north of the Burnside Bridge)

The Peace and Justice Works Iraq Affinity Group is cosponsoring this year's annual War Resisters League protest at the Rose Festival, which calls attention to the warships docked at Portland's waterfront and the various recruiting booths that come with them. The visibility action will take place from 2-4 PM on Saturday, June 8 on the edge of Waterfront Park at NW Naito Parkway and Couch Streets, just outside the Rose Festival barricades.
The IAG pointed out the irony several years ago about the fact that the fences around the warships at the supposedly family-friendly Rose Festival are adorned with signs that say "No Trespassing-- US Navy Restricted Area-- USE OF FORCE AUTHORIZED."
In addition to WRL and the Iraq Affinity Group, this event has KBOO 90.7 FM Community Radio as a media cosponsor.
For more information or to get involved contact the Peace and Justice Works Iraq Affinity Group at 503-236-3065 (voice or text), email iraq@pjw.info , or visit the website at http://www.pjw.info. A flyer is available at http://www.pjw.info/rose_festival0619flyer. pdf
---
Photo of event by Curt B: (click to enlarge)