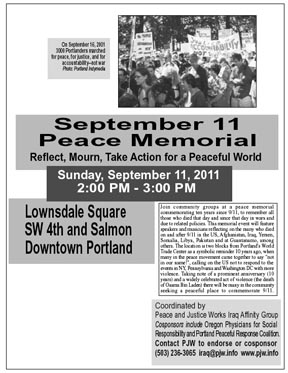 September 11 Peace Memorial:
Reflect, Mourn, Take Action for a More Peaceful World
• List of cosponsors and endorsers
---
Peace and Justice Works Iraq Affinity Group
PO Box 42456
Portland, OR 97242
(503) 236-3065
iraq@pjw.info
http://www.pjw.info/iraq.html

NEWS ITEM/CALENDAR LISTING

FOR IMMEDIATE RELEASE

September 9, 2011

September 11 Peace Memorial: Reflect, Mourn, Take Action for a More Peaceful World
Sunday, September 11, 2011 2:00 PM to 3:00 PM
Lownsdale Square, SW 4th and Salmon
As the nation gears up to remember September 11, 2001, Peace and Justice Works and other community groups are planning peace memorial commemorating ten years since 9/11, to remember all those who died that day and in since that day in wars and due to related policies. The event will be held Sunday, September 11, 2011 from 2:00 to 3:00 PM at Lownsdale Square, SW 4th and Salmon.
This memorial event will feature speakers and musicians reflecting on the many who died on and after 9/11 in the US, Afghanistan, Iraq, Yemen, Somalia, Libya, Pakistan and at Guantanamo, among others. Speakers will include representatives from various faiths including Judaism, Christianity, Islam and Buddhism.
The event is being held two blocks from Portland's World Trade Center as a symbolic reminder of the day, 10 years ago, when many in the peace movement came together to say "not in our name!", calling on the U.S. not to respond to the events in New York, Pennsylvania and Washington DC with more violence. A march held in Portland within a week of 9/11 drew some 3000 participants and marked the creation of the Portland Peaceful Response Coalition, which has been holding weekly demonstrations since November 2001.
Taking note of a prominent anniversary (10 years) and a widely celebrated act of violence (the death of Osama Bin Laden) there will be many in the community seeking a peaceful place to commemorate 9/11, to reflect, mourn, and take action for a more peaceful world.
Cosponsors for this event now include Peace and Justice Works (PJW) Iraq Affinity Group, Oregon Physicians for Social Responsibility, Portland Peaceful Response Coalition, Aurora Chorus and Dharma Rain Zen Center. Endorsers include Recruiter Watch PDX, Little Light of Mine Friends Worship Group East Timor Action Network/Portland, Jewish Voice for Peace-Portland, The Portland Alliance (media endorser) and American Friends Service Committee. If your group would like to endorse or cosponsor, please contact PJW at 503-236-3065 or iraq@pjw.info.
- END -
---

Full list of cosponsors and endorsers (as of September 9, 2011):

Cosponsors:
Peace and Justice Works Iraq Affinity Group
Oregon Physicians for Social Responsibility


Portland Peaceful Response Coalition
Aurora Chorus
Dharma Rain Zen Center


Endorsers:
Recruiter Watch PDX
Little Light of Mine Friends Worship Group
East Timor Action Network/Portland
Jewish Voice for Peace-Portland, OR
The Portland Alliance (media endorser)
American Friends Service Committee

---