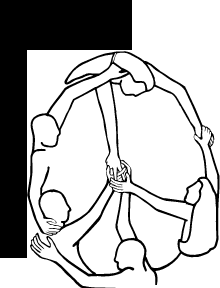 Peace and Justice Works
Site Navigation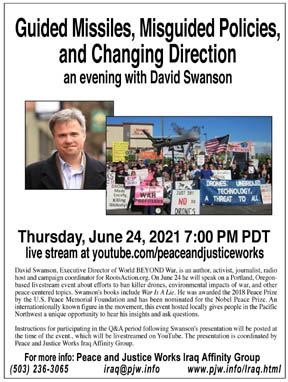 ---
Guided Missiles, Misguided Policies, and Changing Direction
an evening with David Swanson
Thursday, June 24, 2021 7:00 PM PDT
live stream at youtube.com/peaceandjusticeworks
David Swanson, Executive Director of World Beyond War, is an author, activist, journalist, radio host and campaign coordinator for RootsAction.org. On June 24 he will speak on a Portland, Oregon- based livestream event about efforts to ban killer drones, environmental impacts of war, and other peace-centered topics. Swanson's books include War Is A Lie. He was awarded the 2018 Peace Prize by the U.S. Peace Memorial Foundation and has been nominated for the Nobel Peace Prize. An internationionally known figure in the movement, this event hosted locally gives people in the Pacific Northwest a unique opportunity to hear his insights and ask questions.

See the livestream at 7 PM Pacific Daylight Time at youtube.com/peaceandjusticeworks.

Instructions for participating in the Q&A period following Swanson's presentation will be posted at the time of the event, which will be livestreamed on YouTube and hosted by Portland media personality Ani Raven Haines. The presentation is coordinated by Peace and Justice Works Iraq Affinity Group, co-sponsored by Jewish Voice for Peace-Portland, Albany Peace Seekers and Veterans For Peace Linus Pauling Chapter 132 (Corvallis). It is endorsed by Olympia Coalition to Abolish Nuclear Weapons, Irthlingz Arts-Based Environmental Education and the Pacific Green Party of Oregon.

Watch a promotional video for the event at https://www.youtube.com/watch?v=F_8eU4vOEyE .

For more information, or if your group would like to cosponsor or endorse this event, contact Peace and Justice Works at 503-236-3065 or iraq@pjw.info.
---
NEW! 6/25/21:
Watch the video! (posted 6/25/21)
Transcript of the presentation (on the World BEYOND War website)
Watch the video! (posted 6/25/21)
Transcript of the presentation