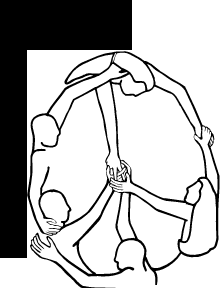 Peace and Justice Works
Site Navigation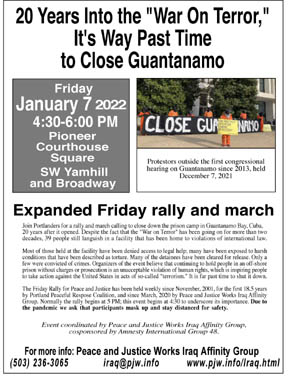 ---
20 Years Into the "War On Terror,"
It's Way Past Time to Close Guantanamo
Friday, January 7, 2022 4:30-6:00 PM
Expanded Friday Rally for Peace and Justice
Pioneer Courthouse Square, SW Yamhill and Broadway
On Friday, January 7 at 4:30 PM, join Portlanders for a rally and march calling to close down the prison camp in Guantanamo Bay, Cuba, 20 years after it opened. Despite the fact that the "War on Terror" has been going on for more than two decades, 39 people still languish in a facility that has been home to violations of international law. The event is titled "20 Years Into the 'War On Terror,' It's Way Past Time to Close Guantanamo."

Most of those held at the facility have been denied access to legal help; many have been exposed to harsh conditions that have been described as torture. Many of the detainees have been cleared for release. Only a few were convicted of crimes. Organizers of the event believe that continuing to hold people in an off-shore prison without charges or prosecution is an unacceptable violation of human rights, which is inspiring people to take action against the United States in acts of so-called "terrorism." It is far past time to shut it down.

The Friday Rally for Peace and Justice has been held weekly since November, 2001, for the first 18.5 years by Portland Peaceful Response Coalition, and since March, 2020 by Peace and Justice Works Iraq Affinity Group. Normally the rally begins at 5 PM; this event begins at 4:30 to underscore its importance.. Due to the pandemic we ask that participants mask up and stay distanced for safety.

Event coordinated by Peace and Justice Works Iraq Affinity Group, cosponsored by Amnesty International Group 48.

For more information, especially if your group would like to cosponsor or endorse this event, contact Peace and Justice Works at 503-236-3065 or iraq@pjw.info.