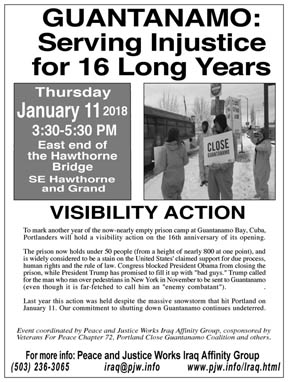 CALENDAR LISTING / NEWS ITEM
For immediate release January 3, 2018
"Guantanamo:
Serving Injustice for 16 Long Years"
Visibility Action
Thursday, January 11, 2018
3:30-5:30 PM
SE Hawthorne & Grand (East end of Hawthorne Bridge)
Featuring the "Tower of Peace"

To mark another year of the now-nearly empty prison camp at Guantanamo Bay, Cuba, Portlanders will hold a visibility action at the east end of the Hawthorne Bridge (SE Hawthorne & Grand) on Thursday, January 18, 2018, from 3:30 to 5:30 PM. The event is titled "Guantanamo: Serving Injustice for 16 Long Years" and will feature the 12-foot-tall "Tower of Peace" strung with banners reading "CLOSE GITMO NOW-Stop Inspiring Terror."
The prison now holds under 50 people (from a height of nearly 800 at one point), and is widely considered to be a stain on the United States' claimed support for due process, human rights and the rule of law. Congress blocked President Obama from closing the prison, while President Trump has promised to fill it up with "bad guys." Trump called for the man who ran over pedestrians in New York in November to be sent to Guantanamo (even though it is far-fetched to call him an "enemy combatant").
Last year this action was held despite the massive snowstorm that hit Portland on January 11. Our commitment to shutting down Guantanamo continues undeterred.
The event is being cosponsored by Peace and Justice Works Iraq Affinity Group, Veterans For Peace Chapter 72, Portland Close Guantanamo Coalition, Amnesty International Group 48 and others. Groups who would like to join as a cosponsor (at no cost, though donations are gladly accepted), or for more information, contact Peace and Justice Works at 503-236-3065 or iraq@pjw.info.
Check out the Facebook page for this event at https://www.facebook.com/events/181616252583410/.
---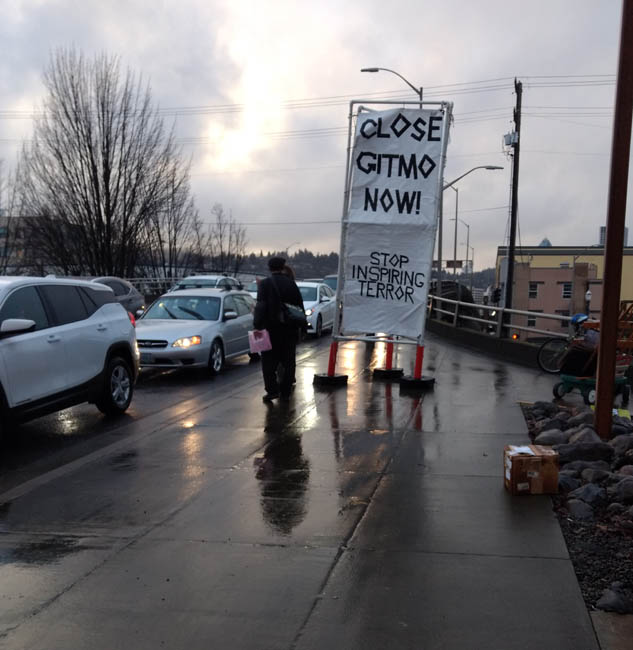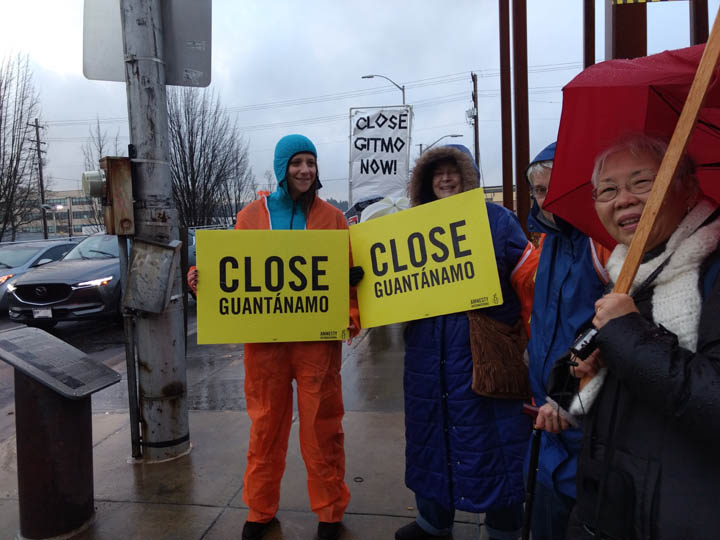 Photos courtesy Amnesty Chapter 48-- another successful action!

---