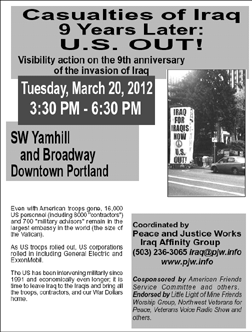 INFO FOR MARCH 20 VISIBILITY ACTION
"Casualties of Iraq 9 Years Later: US Out!"
* Downloadable FLYERS
• 8.5x11 (.pdf) (1/22/12)
---
Calendar Listing
For immediate release March 8, 2012

"Casualties of Iraq 9 Years Later: US Out!"
Visibility action on the ninth anniversary of the invasion
Tuesday, March 20, 2012 3:30-6:30 PM
SW Yamhill and Broadway, Downtown Portland
The Peace and Justice Works Iraq Affinity Group (IAG) is planning an event on Tuesday, March 20, the 9th anniversary of the invasion of Iraq, to educate the public that despite claims to the contrary, the US is not fully withdrawn from Iraq. The visibility action, titled "Casualties of Iraq 9 Years Later: US Out!", will take place from 3:30-6:30 PM at SW Yamhill and Broadway. Even with American troops gone, 16,000 US personnel (including 8000 "contractors") and 700 "military trainers" are still there. In addition, as the troops rolled out, US corporations rolled in, including General Electric and ExxonMobil.*

"The US has been intervening militarily since 1991 and economically even longer; it is time to leave Iraq to the Iraqis and bring all the troops, contractors, and our War Dollars home," said Dan Handelman, an organizer with the IAG.

The event is being cosponsored by American Friends Service Committee, Alliance for Democracy- Portland Chapter, Portland Peaceful Response Coalition, War Resisters League-Portland, Oregon Physicians for Social Responsibility and others; it is endorsed by Little Light of Mine Friends Worship Group, Northwest Veterans for Peace, Veterans Voice Radio Show, RecruiterWatch Pdx and others. For updates check http://www.pjw.info. To volunteer, or if your organization would like to cosponsor or endorse the event, please contact the IAG at 503-236-3065 or iraq@pjw.info.

*-On February 7, the NY Times reported the US will likely cut the size of the embassy staff... and that Turkey, Iraq's largest trading partner, has only 55 people in its Iraqi embassy.
---