---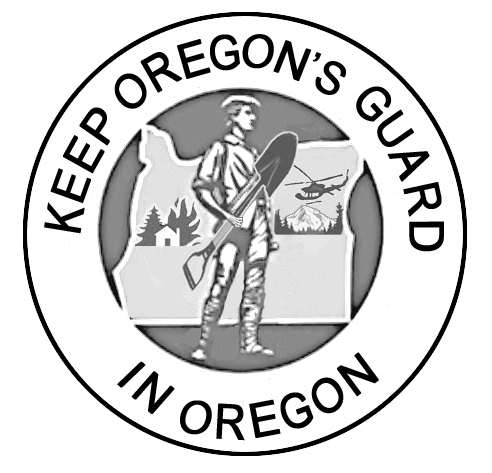 Back to Campaign to Bring the Troops Home page
Back to Campaign to Keep Oregon's Guard in Oregon page
---
Below are excerpts from a letter to Governor Ted Kulongoski written on August 11, 2008, in response to comments he made in the August 4, 2008 Oregonian . Below the signatures of the first 20 groups are organizations who signed on after the letter was sent.
Governor Kulongoski:
We are concerned urban and rural Oregonians, military families, veterans, workers, and people of faith writing you regarding the ongoing federalization of Oregon's National Guard.
We were encouraged to read your statement in the August 3 Oregonian regarding the upcoming planned deployment of 3500 Oregon Guard members to Iraq next summer. We agree with you that "Everybody is worried about the continual deployment of the Guard... I think sometimes we're asking too much of these kids and their families."
We're writing to you because we believe Oregon's elected representatives have the power to decline to send the Guard overseas to military actions that are not lawfully authorized by Congress. We are working together in Oregon and in conjunction with the "Bring the Guard Home--It's the Law" network nationally to actively call for the National Guard to remain here in the US for its intended purposes.
Legislation has been introduced in Vermont, New Jersey, Rhode Island, and Pennsylvania to give Governors the authority to challenge federalization. We have been working with members of the Oregon Legislature to create similar legislation here. We have attached a copy of the proposed resolution/legislation.
The heart of the legislation would: (a) limit the use of Oregon's National Guard to wars that are constitutionally authorized "pursuant to a congressional declaration of war or resolution"; (b) give Oregon's Attorney General the authority to defend decisions regarding federal deployment of the Guard; and (c) clarify the intent of this law is that Oregon's government, not the Oregon Guard members, will make this decision.
The Federal Government can mobilize state Guard units in national emergencies. Current federalization of the Guard is based on Congressional Authorizations for Use of Military Force (AUMFs) against Afghanistan (2001) and Iraq (2002). These authorizations are too broad and circumstances have changed. For example, the Iraq authorization was based on enforcing UN resolutions against Saddam Hussein regarding weapons of mass destruction.
Under Article I, Section 8, Clause 15 of the United States Constitution, (and similar language in Oregon's Constitution) Congress may call forth the militia to execute the laws of the union, suppress insurrections and repel invasions. Assuming for the sake of argument that the war was lawful when commenced, the presence of the Guard members in Iraq is not now lawful. Congress has not declared war or passed updated authorizations.
In addition to the 3500 troops being called up next May, all 12 of Oregon's Blackhawk helicopters are slated to be shipped to Iraq in January, 2009. This will leave Oregon with limited ability to fight fires, conduct search and rescue, and be prepared for floods and other natural disasters.
Unless states begin to address the open-ended nature of the AUMFs, our Guard could be deployed indefinitely.
Governor Kulongoski, we know you are as tired as we are of seeing Oregon's sons and daughters come home in caskets or severely wounded. The military action in Iraq has now lasted five and a half years, and the action in Afghanistan is going on seven. It is time to assert your right as Commander in Chief of our Guard and keep Oregon's Guard in Oregon. This isn't about whether or not one agrees with the initial or even the current U.S. misison in Iraq or Afghanistan, but rather about the federal government exhausting our states' human and physical resources to conduct such missions.
Thank you again for speaking out, and thank you for your time.
Sincerely,
Dan Handelman
Peace and Justice Works Iraq Affinity Group
Adele Kubein, MFSO Northwest Regional Representative and 70 other members
Military Families Speak Out-Oregon
Marcy Westerling and Amy Dudley
Rural Organizing Project
Harvey Thorstad, PhD, Cdr. USNR (retired), VietNam Veteran, President
Veterans for Peace Chapter 72 (Portland)
Leah Bolger
Veterans for Peace Chapter 132 (Corvallis)
Ed Pool
Veterans for Peace-Chapter 141 (Bandon)
Hal Anthony
Veterans for Peace-Grants Pass
Jo Ann Bowman, Executive Director
Oregon Action
Michael Carrigan
Progressive Responses, a program of Community Alliance of Lane County
Allen Hallmark
Citizens for Peace and Justice (Medford)
Georgia Pinkel
Women's International League for Peace and Freedom-Portland Chapter
John Grueschow
War Resisters League-Portland
William Seaman
Portland Peaceful Response Coalition
Yvonne Simmons
Women in Black
Kelly Campbell, Portland Area Peace Director
American Friends Service Committee
Karen Winget
Corvallis Raging Grannies
Margaret Moreland
Oak Grove Peace Vigil
Max White
East Timor Action Network-Portland
Peter Miller
Americans United for Palestinian Human Rights
Curt Bell
Oregonians Against the War
Mark Knutson, Senior Pastor
Augustana Lutheran Church*
*organization listed for identification purposes only
---
Additional signators:

Tess Beistel and Carolyn Gillen, Co-Chairs
Peace Action Committeef First Unitarian Church Portland

Heidi Monjure, acting executive director
Peace House of Ashland, OR

Margaret Butler, executive director
Portland Jobs with Justice

Wes Brain, Chair
Southern Oregon Jobs with Justice
---
Back to top