---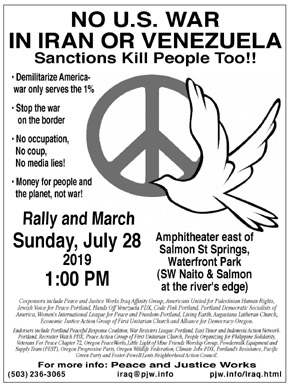 VOLUNTEER for security and more: "No US War in Iran or Venezuela" mobilization July 28, 2019
Friends:

Below are volunteer opportunities if you want to be part of the July 28 "No US War in Iran or Venezuela" mobilization.

DAY-OF SCHEDULE:
12:45 PM Music
1:00 PM Rally
1:45 PM (approximate) march begins
3:00 or 3:30 PM (best guess) march ends

Volunteer: • Security • Posters/Flyers • Cosponsor/Endorse • Donate
• Day of tasks: • Park point/clean-up • Fund-raisers • Petition gatherers
---
SECURITY TEAM: Training Wed 7/24, 6-8 PM
"On duty" Sun 7/28 12:30 PM to 3:30 PM

We're looking to have about 15 people for our security team at the July 28
rally and march. Longtime security point person Joe Keating will
conduct a training on Wednesday, July 24 from 6-8 PM at Augustana Lutheran
Church, upstairs in the Fireside Room.

...The training involves basic nonviolence and de-escalation skills, but
you must attend the training to participate on the 28th.

...The security team helps to coordinate the safety of pedestrians and automobiles along the route.

...This task is vital to ensure a safe and efficient rally and march.

...It is necessary to get coordinated before the event to go over the
basics of security and the logistics of the traffic requirements.

RSVP to Joe Keating 503-234-2613 or to Peace and Justice Works
( iraq @ pjw.info ) if you can come to
the training and be in Waterfront Park from 12:30 (just before the rally)
until about 3:30 (when the march will for sure be over, possibly earlier).
The march route is about 2 miles long.
---
........ BETWEEN NOW AND JULY 28 (Day of info, below)
---
POSTERING:
Downloadable .pdf posters/ leaflets:
POSTERS (enlarge by 150% to 11x17)
Site for poster pickup:
Peace and Justice Works office 503-236-3065 (call for address)
We have small quantities of all sizes on the office door.
Call or email ahead if you need large numbers. iraq@pjw.info
---
ENDORSE/COSPONSOR
--If your organization isn't already on board with the July 28 event
and would like to be listed as a cosponsor or endorser, let us know.
Cosponsors are expected to donate $25-50.
Endorsers just say "we support your event."
Group names will be listed on the website and news releases.
We expect groups to post information about the rally to your constituents.
A facebook link will be added to the event webpage soon.
(NOTE: Per city of Portland's rules, no donations can be made in the park)
NOTE: For various legal and political reasons, for-profit
businesses and political parties may endorse, but not co-sponsor.
The four fiscal cosponsors of this event are: (non-501-c-3)--Portland
Peaceful Response Coalition [contact PJW for mailing address]; War
Resisters League / 2000 NE 42nd #224 / Portland 97213; East Timor
Action Network-Portland / [connect with PJW for info]
and (501-c-3)--Peace and Justice Works / PO Box 42456 / Portland 97242.
PJW also accepts donations via its Network for Good page,
accesible via http://www.pjw.info/pjwdonateonline.html .
Be sure to indicate it is cosponsorship money and for what group.
---
DONATE:

--If you have a few dollars to send our way it will help cover expenses
for this event, send your check to Peace and Justice Works, PO Box 42456,
Portland, OR 97242 and mark it "July 28th event" in the memo field.
(Donations are also accepted at Portland Peaceful Response Coalition,
War Resisters League, and East Timor Action Network/Portland)
---
..........DAY OF RALLY (July 28):
---
PARK POINT/CLEAN-UP (about 1:30 PM to 3 or 3:30 PM)
... We need 2-3 people to remain at the rally site during
the march (approx. 1:30 to 3 or 3:30 PM) to stay with the sound system.
... These people are also asked to help pick up any trash and discard it.
---
FUND-RAISERS: (1:30 PM to 3:00 or 3:30 PM)
Help pass the buckets to make more rallies possible!
We'd like 5-10 people to help collect donations.
As noted above, no money can change hands in the park so
donations will be accepted on the sidewalk and along the march.
Time needed is at least 1:30 PM to 3:00 or 3:30 PM; there may also
be a short training at the rally beforehand.
---
PETITION GATHERERS
We would like to get 10-15 people to help us with our action for
the day which will be to gather signatures for local opposition
to wars/sanctions/coups in Iran and Venezuela.
Ideally these folks can arrive no later than 12:45 PM to
get clipboards and instructions, and circulate through
the crowd at the rally.
If people can also stay until the end of the march (3:00 or 3:30)
we may be able to get more signatures at the end.
Thank you and we hope to see you on (and/or before) the 28th!
---